Topics

Definition of Hebrew Names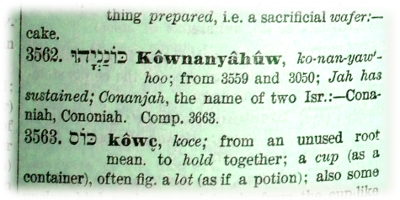 Jeremiah
By Jeff A. Benner
The name Jeremiah is written in Hebrew as ירמיה / ירמיהו (yir-me-yah / yir-me-yahu, Strong's #3414) and is composed of two words; ירם and יה.

ירם is the verb רום (R.W.M, Strong's #7311), meaning to "lift up," with the letter י (yud) as a prefix, which identifies the subject of this verb as masculine singular and the tense of the verb as "imperfect" – "he lifts up." It should also be noted that the letter ו (vav) is dropped from the verb when it is conjugated.

יה (Yah, Strong's #3050) is one of the names of God and is the subject of the verb – Yah lifts up.
---
Free Study Pack
Sign up for our mail list and get a free study pack that includes Mr. Benner's ebook, A Mechanical Translation of Genesis.
---
Related Pages by Jeff A. Benner