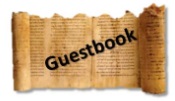 eBooks
All of Mr. Benner's books are available as e-Books for a small donation price.
Mr. Benner's
Video Courses
Donations by Mail:
AHRC
PO Box 284
Magnolia, Ms. 39652
I also support my fellow instructors at Udemy. If you are looking to take a course on anything from Algebra to Zoology, click on the link below to search for your course.
If you are doing some shopping on Amazon and begin your search in the box below, the AHRC, an Amazon affiliate, will receive a portion of the sale. Thank you.